A customer in The Ponds area of Sydney recently called Castle Painting to fix a nasty hole in his gyprock wall.
If you're like our customer from The Ponds, you'll probably be as upset as this guy was at the sight of a hole in his wall. The customer not only wanted the damage fixed but he also wanted the painting to match the existing wall colour.
And matching new paint to an existing paint colour is not always easy!
Common causes of damage to gyprock walls
Cracks or holes in your gyprock aren't only unsightly they can also grow into major problems if you fail to fill and repaint them promptly.
That's why you want to be aware of what causes cracks in your walls – so that you can keep a lookout for them and fix them fast.
House settling occurs over time as some part settles more than the others. Due to a downwards movement of soil, this settling can affect the wall structure, causing the gyprock to crack.
Poor design and installation. Errors in taping and application can cause cracks in your gyprock.
Water damage and moisture. Water damage can come from blocked gutters or leaking pipes. Moisture can cause screws to rust which can lead to loosening of the walls and cause them to crack.
Degradation of building works. All building materials have a limited shelf life. External factors like weather changes can take their toll on the whole structure of a building.
Accidental holes caused by children's toys, moving furniture around etc. These are both common causes of holes in gyprock walls.
How Alex from Castle-Painting not only fixed the Gyprock wall but also painted the repaired gyprock to perfection
First, he cut out the damaged gyprock piece and replaced it with new gyprock. He screwed it to the wall stud beams behind the gyprock for strength…
Next, Alex patched the joints in a 3 coat system with plastic mesh, base coat and top coat.
Then he sanded it back and applied one coat of water-based sealer.
Then came the really challenging part for anyone who is not a professional painter – Alex matched the existing colour using four tints.
Finally, he applied two coats of low sheen paint to finish.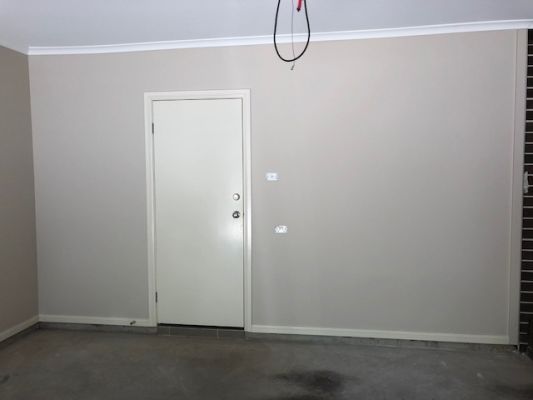 The Ponds homeowner was delighted with the results. He said the gyprock looked great and the paintwork made it look like there has never been a hole in the wall!
If you are looking for a fully licensed and insured home and commercial painting contractor serving the Sydney Metropolitan area, call Alex at Castle-Painting on 0415 831 494